Announcements and Upcoming Events
Check out this message from Bishop Ruben Saenz Jr.!
We're excited for you to all receive and start using your first bibles!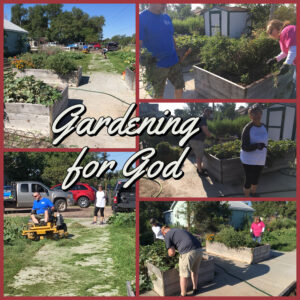 A small group of our parishioners came together to beautify and prepare our community gardens for next year!
They filled 2 dumpsters with weed and debris from the area!
What wonderful stewardship they offered to our community!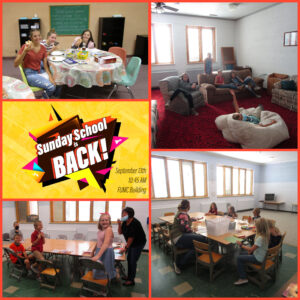 How wonderful it is to be back in Sunday School!
Join us next week at 10:45 AM, we'd love you have you!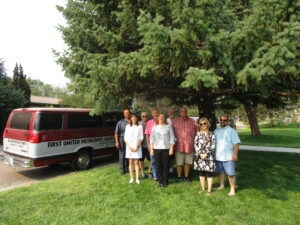 Over the coming weeks our Pastors will be talking about stewardship and how we all have something to offer to God.
Check out our Park Service Volunteers here! Each week they offer their time and efforts to help set up, greet, and tear down our Park Services. We couldn't do it without them!
How can you serve the Lord??
Come learn all the ways we can be disciples of Christ!
What a blessing it is to come together and collect so many supplies for our community!
Our 5th Sunday Supply Drive was a success! We collected items for Stuff the Bus, Family Crisis Center, Genesis Family Health, and the Emmaus House. Thank you to all who participated!
While continuing to keep everyone's safety in mind we are also looking forward and planning our regular fall activities. Both our staff and Staff Parish Relations Committee have decided on the following as our next steps for reopening.
September 13th – October 4th
We will hold Services in the Park at 9:30 AM and open our building at 10:45 for Sunday School classes.
We will continue to asses the situation as we work toward joining one another for worship in our sanctuary again.
Third Grade Bibles | Sunday, September 20th
Bible Adventure | Wednesday, September 23rd
Wednesday Night Kickoff | Still to be determined
Join us in congratulating Tecla Nyamakope on her graduation from Nebraska Wesleyan University and for the honor of receiving the Dean B. Stewart Award for Courage! Here is a wonderfully prepared article about her accomplishments!
A Thank You from Beverly Delinger and Elaine Childers.
We are blessed to have had Ina Mae's servant heart be a part of our church family.