Bishop Ruben Saenz Jr. has once again written a letter with recommendations regarding the Covid-19 pandemic. He is encouraging congregations in moderate to low risk counties to resume in person worship for the Lent season, but still lays out guidelines for staying safe. We are continuing to worship in person in our sanctuary while following the guidelines of mask wearing and social distancing. As staff we continue to assess the current circumstances in Finney County along with our congregations ability to worship safely.
To read Bishop Ruben's newest letter, please click here.
Services
Saturday Night Light | 5:45 PM | Chapel
Sunday Worship | 9:30 AM | Sanctuary
Sunday School | 10:45 AM
We are worshiping in our building, but we must still consider the current circumstances. Your safety has been on our minds throughout this pandemic, and it continues to be our top priority. Below we have outlined our plans and recommendations for keeping everyone safe while worshiping with us.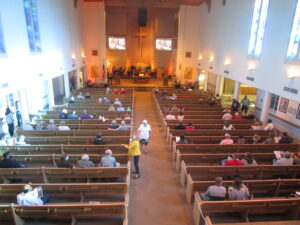 Face coverings are now mandatory and social distancing is strongly recommended.

Please use our automatic doors if possible.

Avoid hand shakes and hugs.

Please respect those around you as we all have different comfort levels.

We ask that parishioners fill out attendance slips so that we can contact you in case of an outbreak.
We have roped off every other pew to aid in social distancing. Extra seating is available in the Chapel, Wesley Hall, and the balcony.

We have removed items from our pews as to prevent the passing of germs.

We discourage congregational singing at this time to prevent the spread of germs.

There is no coffee service in the Welcome Center at this time.

In place of Children's Church we are offering single use/take home Busy Bags for all ages.

Offering will be collected in baskets at the entrances to the sanctuary rather than by passing the plate.
Worship From Home


We understand that returning to the building is not for everyone just yet. If that is your case, services are uploaded on Sunday afternoons.
Please continue to worship with us from the safety of your home in the following ways:
FUMCGC.COM
Navigate to our "Services" page through the "Worship" option in our menu. This will allow you to watch on a computer or mobile device.
YOUTUBE
Head to www.YouTube.com and search "FUMCGC." Select our channel. YouTube can be watched through a Smart TV or Roku Device on your home television as well as on a computer or mobile device.